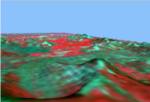 Thematics Infotech Pvt. Ltd. is staffed with technical professionals experienced in the field of spatial data acquisition, processing and analysis. The company specializes in offering LiDAR, DGPS (GNSS receivers), GPR Surveys (Ground Penetrating Radar) and GIS based services. The company has a track record of successfully serving various government, private and research institutions.
The team comprises of well-trained and experienced Civil engineers, Water resources specialists, Electrical engineers, Geologists, Software engineers and Urban planners. Very senior consultants and subject experts also support the company.
The company is well equipped with latest equipment required for project implementation, namely, LiDAR, GPR (Ground Penetrating Radar), Differential Global Positioning Systems (DGPS), Total Stations, High-end PCs, Large Format Plotters etc.